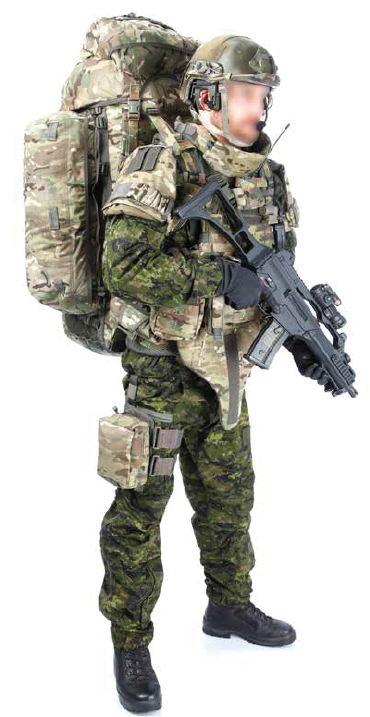 BELT
The trousers belt is stiffened and will not twist when you carry a leg attachment.
ATTACHING GEAR TO THE BELT
Leg attachments are secured with a Velcro loop that makes it possible to attach them without opening your belt.
LEG ATTACHMENT
Leg attachments are stable and comfortable on either your right or left leg. A range of specially design pouches are available to choose from and attach to your leg.
WEAPON ATTACHMENT
The weapon can be carried in a sling, attached to the equipment vest. You relieve the neck and increase your comfort considerably. This makes it easier to concentrate on your task.
ACCESSIBILITY
The pouches can be attached in different ways and in different places giving you the ability to grab the content you want. The pouches are designed to make it easy and fast to change magazines. The dump pouch is rolled out for the fast storage of empty magazines or other things.
COMMUNICATIONS
The radio can be attached wherever you want. There are several options to route wires for microphone, PTT and headphones so they will not get stuck.
SURVIVAL
The small backpack can be attached to the equipment vest. It can be worn pulled up or down when you wear a backpack. It has a built-in mini-sleeping mat and houses equipment to let you survive 1-3 days.
MISSION BACKPACK
A backpack for all soldiers and their 24-48 hour needs is attached on the outside of the big backpack.
FLAP AND BACK POCKET
Parts of the large backpack can be detached and used separately to cover your needs for one day.
LARGE BACKPACK
It is always a problem to bring enough equipment for one week in a tactically sound way. We have designed a backpack that will work with the uniform, equipment vest and other equipment. The backpack is big enough for you to easily store all your equipment. Pockets are positioned to be easily accessible when you are resting. All surfaces that rest against your body are padded and ventilated to maintain the highest possible comfort.