SYSTEM
The system is based on our equipment vest with specially designed and sewn pockets and, compartments. The vest is available in two different versions, tailored specifically for each task – Surveillance and Tactical.
COMFORT
The vests are well tailored, distributing pressure evenly over the shoulders and around the body. They are very lightweight, durable and the size is easy to adjust. One of the biggest advantages is that you know that you have all your equipment in one place, the vest. When off duty, you can take off the vest with the confidence that all your equipment will remain in place.
AVAILABILITY
The pistol can, as usual, be carried in the trouser belt. The vest is cut so as not to block access to it. Two compartments for left or right hand shooters, for the pistol, is sewn on the inside of the vest. The compartments on the vest are designed and positioned to make what you need most frequently, quick and easily accessible.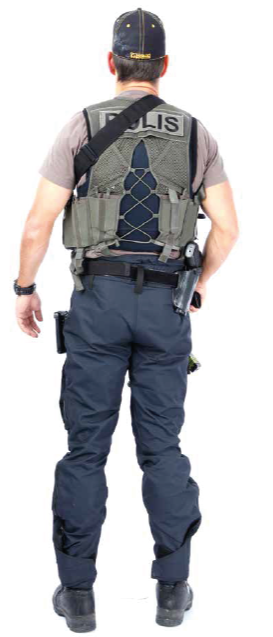 POUCHES AND BELTS
We have holders and pouches as well as belts especially designed for covert carrying of police equipment.
HARNESSES
Two different harnesses are in our inventory so you can carry radios, a baton, handcuffs and CS spray in a comfortable and safe way.
SURVEILLANCE VEST
This vest has compartments for the equipment that is needed during surveillance.
TACTICAL VEST
This is the vest for users who carry heavier weapons with extra magazines, etc.
COVERT BACKPACK
The covert backpack looks like a backpack or a bag, but transforms to a ballistic vest with carrying capacity.